Forced to stay at home due to COVID-19 restrictions, people around the world suddenly found a new hobby—streaming content. Streaming trends indicate that the technology has been reaching new heights during the pandemic. The convergence of new technologies, Internet penetration, expanding mobile usage, and ubiquitous lockdowns are the driving forces behind this development.
Current streaming statistics indicate that video streaming still leads the pack and will make up 82% of Internet traffic by the year 2022 (Interdigital, 2020). Video accessibility also plays a part in the increased popularity of streaming. The same goes for the improvement in video quality, which will make streaming popular not only among businesses but to other organizations as well.
The latest digital marketing statistics reflect the increasing role of video streaming in the corporate world. To give you a better idea of how you may use streaming to improve your business, we have compiled some of the latest streaming trends.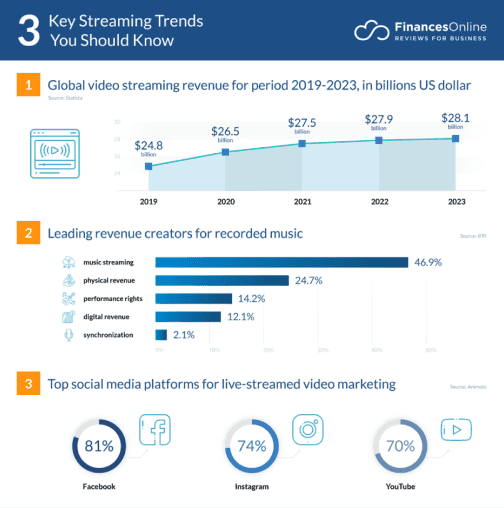 Streaming Trends Table of Contents
As the entire world was brought to a standstill by the COVID-19 outbreak, media consumption in numerous countries saw an upsurge. Video and TV streaming usage alone witnessed an unprecedented growth of over 40% in Spain and Austria, while Germany saw a 32% uptick (Bloomberg, 2020).
But streaming is not limited to video, despite its unprecedented growth. Other media have also taken advantage of the technology. In fact, music streaming traffic grew by 20% (WARC, 2020). Led by Spotify and Apple Music, this growth was driven by sudden increases in usage during the pandemic. Accessibility and convenience had been crucial factors in the growth of this streaming segment. In fact, these factors helped drive a 49% growth of the on-demand music streaming market (Nielsen, 2019) in 2018 alone.
Increase in time spent streaming video and TV during the pandemic

March 13-14, 2020
Source: Bloomberg (2020)
Another notable development in streaming is the rise in the use of mobile devices, which gained considerable momentum even before the pandemic. Mobile devices account for more than 70% of YouTube watch time. Users have developed a love affair with mobile devices. Such devices are not only used to watch videos but to live broadcast them as well. It is in this context that some see the mass adoption of the vertical and square video formats, which optimize videos' use of mobile screens.
In-home Media Consumption Due to COVID-19
The pandemic has made significant effects on how households are consuming streaming media. With over 4.5 billion people using the internet in early 2020, streaming services usage has achieved considerable growth across the world.
From Netflix to Spotify and YouTube and Facebook, the norm for media consumers across all ages now involves accessing and enjoying content through online streaming. While some still listen to/watch traditional radios and TV sets, the majority now prefer in-home media for their information and entertainment needs.
In the U.S., most consumers already subscribe to some form of streaming services. From 52% in 2015 and 64% in 2017, 74% of American households have at least one streaming service subscription in 2019 (Leichman Research Group, 2019). In addition, the average American subscriber watches 3.4 streaming services and pays an average monthly bill of $8.53 (Vindicia, 2019).
Elsewhere around the world, one study found that in-home media consumption behavior varies despite having similar effects of the pandemic. For instance, while 43% of Australian households use streaming services to watch the news, the global average is much higher, at 50%. Likewise, Philippine and Chinese households were found to spend more time on music streaming. Moreover, only 8% of Japanese households use messaging services, while 60% of Italians do so.
Global internet users' in-home media consumption due to COVID-19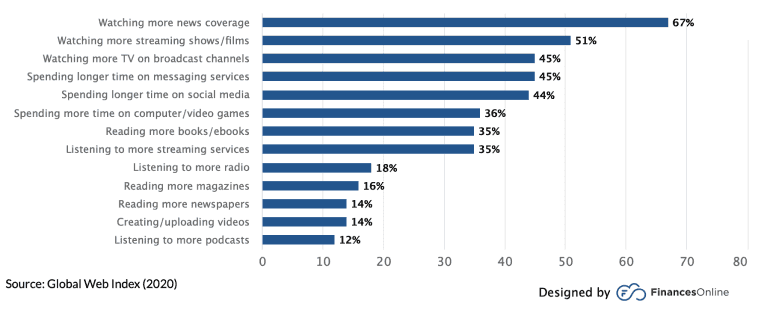 March 2020
Source: Global Web Index (2020)
OTT Continues to Soar Higher
Before and during the pandemic, over-the-top (OTT) media services are growing, with more than 182 million subscribers in the US alone. The popularity of these platforms stems from the fact that they offer subscribers limitless and instant access to original high-quality content. Popular OTT providers include Netflix, Hulu, Amazon Prime Video, Disney+, and HBO, among many others.
In 2020, eMarketer predicted that over 185 million American and Canadian households would have subscribed to Netflix, the undisputed top global OTT video service provider. Mostly due to widespread home confinement, Netflix revenues surged from $20.1 billion in 2019 to almost $25 billion in 2020 (Netflix, 2021). Elsewhere, the number of Western European households that subscribe to OTT video services was predicted to increase by 15.6% compared to the previous year (eMarketer, 2020).
Looking back, Netflix's original programming started with the creation of "House of Cards" which led to other platforms creating their original content. The global demand for original programming has increased. Consumers belonging to younger age groups even use the provision of original content as the basis for choosing a streaming service. Original programming gave rise to subscriber interactions, which commonly come in the form of debates revolving around popular shows.
OTT services are working overtime to find ways to provide original and high-quality content. The trick seems to work as consumers continue to migrate to online video channels. Many OTT providers have also allied themselves with mobile operators to get a large slice of the pie. Companies are also looking into monetizing content using alternative models, which include ad-based and subscription video on demand. Netflix continues to lead the pack, allocating $12 billion on digital content production in 2018. But it won't stop there as analysts believe that original content spending could breach the $15 billion mark by 2019. However, due to the pandemic, most production activities were stopped as Netflix has pledged $150 million to assist the OTT industry to survive the effects of the health outbreak.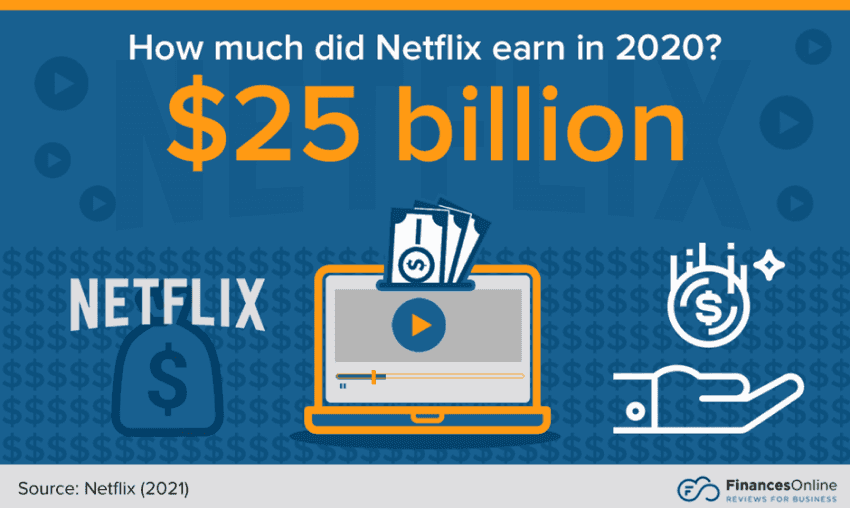 Key takeaways
There are more than 182 OTT media service subscribers in the US.
Netflix has pledged $150 million to help the industry to survive the impact of the global health crisis.
Consumers continue to shift to online video channels.
Live Streaming Still Social Media Turf
Live streaming on social media began as a non-interactive process. But the most notable of live streaming trends rests on how social media platforms like Facebook, YouTube, and Instagram have established two-way traffic when it comes to live-streaming. The use of messaging apps now allows audiences to communicate with live broadcasters. This interactive experience has resulted in the popularity of live streaming among both businesses and consumers. Besides, there are media streaming gadgets that can be used to improve the streaming process.
As video streaming also dominated social media consumption, YouTube has seized the number spot from Facebook for 2020. According to consumers, 51% ranked YouTube as the social site they spend most of their time on (Animoto, 2021). At the second spot is Facebook (45%), while Instagram (39%) placed third. Nonetheless, Facebook was able to gain a 50% increase in the volume of users of live streaming during the long lockdown months of 2020 (CNET, 2020).
Live streaming proved to be a robust marketing channel for many companies. This success lies in the fact that live streams are sent directly to audiences who are interested in the broadcast in the first place. Live streaming is likewise being fueled by the massive increase in mobile users. Ecommerce companies have recognized the value of live streaming. These businesses are now conducting live events to showcase their products, improving the end-user experience. If you want to further leverage social media in your marketing process, there are social media management software tools that you can use.
Top Social Media Platforms for Video Marketing
3 leading platforms where consumers spend most of their time
51% YouTube
45% Facebook
39% Instagram
Source: Animoto (2020)
Key takeaways
YouTube took over Facebook as the platform where consumers spend most of their time on.
Social media platforms have made live streaming an interactive process.
Live stream interactions are accomplished through messaging apps.
Live streaming has become a valuable marketing tool.
Most Popular Social Media Management Software
Mobile Is Now the Preferred Channel
The mobile channel has surpassed TV in growth as it became the preferred video delivery medium. This growth is being fueled in part by mobile networks' rush to offer broadband and LTE services. Partnerships between streaming services and mobile networks are mushrooming. These partnerships offer customer incentives in exchange for increased content consumption.
The largest live-streaming platform, Amazon's Twitch, has witnessed its hours watched surging 101% due to COVID-19 for the whole of 2020 (The Verge, 2020). And around 33% of all Twitch users watch live streams using their smartphones (Polygon).
Meanwhile, cable TV subscription has suffered a 3.4% decline in 2017, leaving around 79% of US household still subscribing to cable or satellite TV services. Cord-cutting activity is expected to continue in the coming years as mobile channels grow from content bundling and subsidies.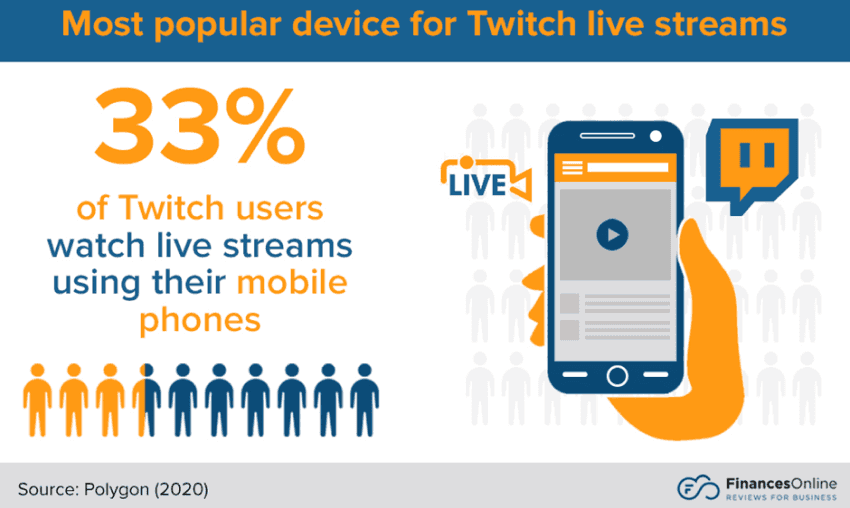 Key takeaways
Due to the pandemic, the number of Twitch users increased by 101%, with one-third watching using their mobile devices.
The mobile channel's growth has surpassed that of television.
Broadband and LTE services have been driving the mobile channel's growth.
Streaming services have been partnering with mobile networks.
Extended Business Applications
Now, we know that many companies pounced on the opportunity to use streaming to market their brands. These days, that's no longer the case as businesses find new ways to leverage the technology. Video streaming has found its way through processes such as virtual doctor visits and drive-through banking. But perhaps, the most promising use of the technology is in customer support.
Organizations are now using video streaming to help customers troubleshoot product and service issues. Video streaming's interactive nature contributes to customer experience, which is now considered a critical element of customer service. This, of course, is apart from the fact that technology eliminates the need to have a technician to be physically present to troubleshoot problems.
Video streaming continues to expand its use in many business activities, such as marketing and sales. For instance, in a recent Wyzowl State of Video Marketing study, over 99% of businesses that use video for marketing indicate their plan to remaining using the platform in 2021, with 89% of marketers opting to use YouTube. This is likely because due to the pandemic, 96% of consumers report that their video consumption has dramatically increased (Wyzowl, 2021).
Key takeaways
More than 99% of companies are planning to continue using video for marketing in 2021.
Because of the health crisis, 96% of consumers say that their video consumption has risen significantly.
Video streaming contributes to the customer experience.
Businesses use video streaming to help consumers troubleshoot product/service issues.
Fragmentation of OTT Content
OTT's growth inevitably led to these services finding niche content of their own. And this is one of the most notable streaming services trends there is. This is apparent in the case of Disney, which decided to pull its contract with providers Hulu and Netflix. The company's plan to launch its own OTT streaming platform, Disney+ is proof that content fragmentation is well on its way. This development can only be caused by stiff competition, which is bound to further increase.
Another example is streaming services' fight to retain profitable content. But such contracts can only last for so long. Case in point–Netflix's retention of the TV sitcom "Friends." As steady as the service's partnership with WarnerMedia may seem, pundits believe that the latter would eventually move original content to its platform soon.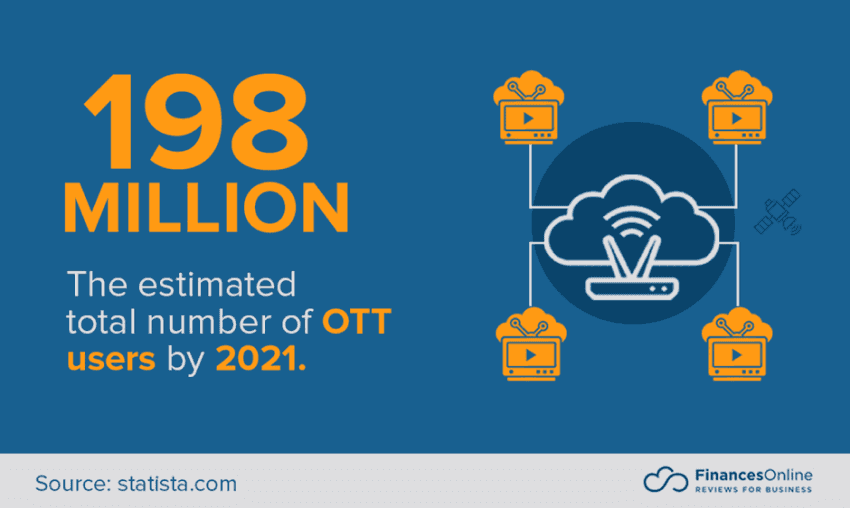 Key takeaways
OTT media services are developing niche content.
Stiff competition has resulted in OTT content fragmentation.
OTT media services are fighting to retain popular content.
Music Streaming Displaces Radio
Video didn't kill the radio guy. Yes, streaming trends music will do that instead. The most prominent of streaming trends, music impacts young audiences the most. Younger age groups now prefer streaming music over the radio–and for good reason. Music streaming is all about music. There are no DJs, no time checks and most of all no lengthy advertisements. Also, unlike radio where one needs to request songs, music streaming lets one choose from millions of titles and play them from any device.
As most people spend more time at home due to the pandemic, music streaming services will become very busy addressing spikes in demand worldwide. For instance, in Q1 2020, there were 400 million people who subscribe to music streaming services across the world, increasing by almost a hundred million versus the same period in 2019. Likewise, in the US, 18% of Millennials and 5% of Baby Boomers expect that they would likely choose to spend more time streaming music since they cannot leave their homes because of the lockdowns (Morning Consult, 2020).
Prior to the pandemic, here are the key figures: 56% of Gen Z use YouTube to listen to music, while radio listeners come in at just 39%. These figures say that this age group won't become avid radio listeners anytime soon. Worse, podcasts are gaining traction and could very well soon get to have more senior audiences. And then there is the tech bundling that major services are bankrolling. This would make music streaming but a part of these companies' offerings.
Share of American adults who will likely spend more on music streaming services due to the pandemic by generation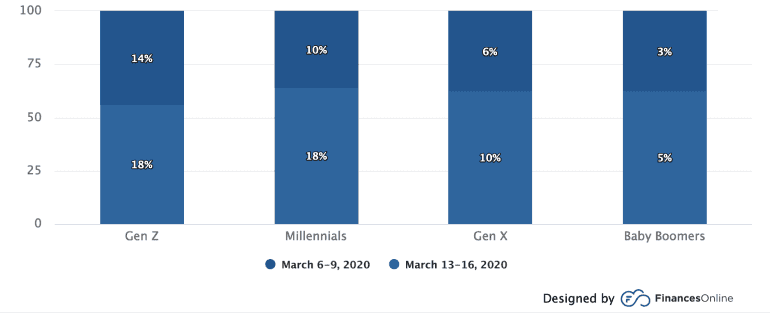 As of March 2020
Key takeaways
Due to the pandemic, there were 400 million music streaming subscribers worldwide during the first quarter of 2020.
Younger consumers prefer music streaming over the radio.
Gen Z members will not become radio fans.
Podcasts will attract senior audiences.
Streaming Trends by Industry
Live streaming is currently being used by e-commerce companies, leveraging the technology to market their products and services. This improves customers' online shopping experience, bringing them closer to brands. The same goes for educational institutions that have been streaming lessons to online students. This enriches students' classroom experience through visual demos and live lesson broadcasts. Of course, content marketers had long been using various types of streaming and recorded videos, mainly for product or service promotion (24.5%) and brand storytelling (23%) (HubSpot, 2020).
For the healthcare sector, streaming proved its worth by allowing medical practitioners to hold online training sessions and care for patients in real-time. For offshore practitioners, live streaming helps surgeons during offshore surgeries. Finally, the gaming sector uses live streaming to reach out to a wider audience and promote engagement.
Major types of videos businesses are investing in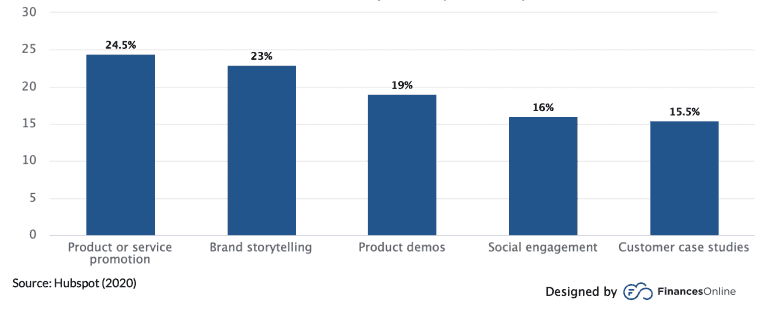 North American Survey January-February 2020
Source: Hubspot (2020)
Key takeaways
E-commerce companies are using live streaming in marketing.
Live streaming improves customer experience.
Healthcare providers are using live streaming in training and patient care.
IOT Video Streaming
Internet of Things (IoT) video streaming is already being used in a variety of settings. These include law enforcement and endoscopic surgeries. These days, IoT video streaming is being targeted at consumers as a result of the increase in the number of devices connected to the Internet. By 2025, the projected IoT total installed base connected devices will be around 30.9 billion units, which include active gateways or nodes/devices that concentrate the end-sensors that enable live streaming functions (IoT Analytics, 2021).
Consumer applications of IoT video streaming range from doorbell cameras, pet monitors, IP cameras to security cameras. Consumer use of IoT video streaming is limited only by the imagination. And with the advent of 5G Internet, the technology's use in home and industrial monitoring will only expand exponentially in the coming years.
Another exciting use case is IoT video stream technology in cars. For instance, by using customized sensors and high illuminating infrared cameras, a car can communicate with other vehicles using 5G-enabled devices and dedicated short-range communication technologies (Aliyu et al., 2018). In fact, the biggest segment of the worldwide IoT-5G endpoint market is forecasted to be connected cars. By 2023, this segment is projected to grow into around 19 million endpoints, with an install base market share of 39% (Statista, 2020).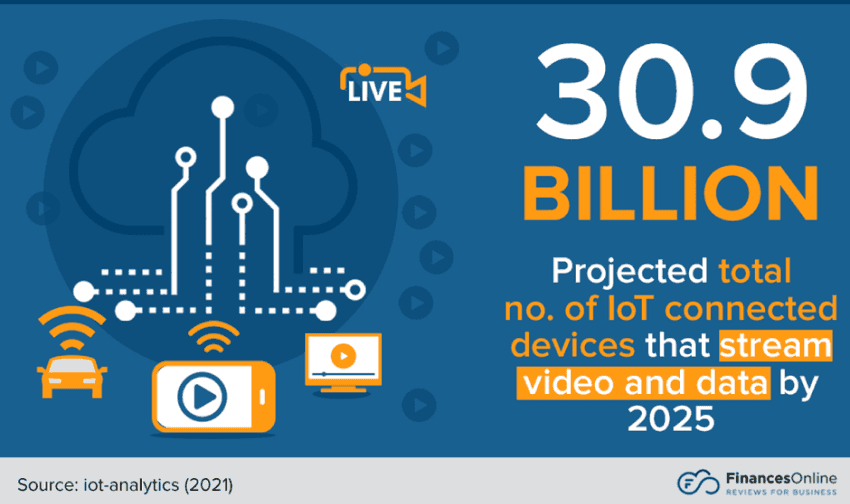 Key takeaways
Law enforcers and surgeons now use IoT streaming.
Increased connectivity has resulted in the targeting of IoT video streaming at consumers.
IoT video streaming will see increased use in home monitoring.
Use These Trends to Improve Your Business
So what have we learned so far? It is likely that the changes in streaming media consumption in the US and across the world due to COVID-19 are likely to become the new normal. Likewise, streaming will become one of the most used technologies of the 21st century. What used to be thought of as an entertainment medium has branched out to critical business areas, albeit, little by little. For now, music and video streaming dominate the landscape. OTT streaming platforms are growing at a break-neck speed, becoming an industry that's worth billions of dollars.
Live streaming has proved to be a boon for many businesses that now use it to market their products and services. Social media is still the platform of choice for these companies such as Facebook, Instagram, and Periscope. These platforms have improved live streaming, making it a means by which sellers can interact with customers. Messaging apps have made it possible for audiences to communicate with organizations in real-time.
But streaming is not confined to video. The music industry has likewise immensely benefited from streaming. Music streaming platforms like Spotify have overtaken radio as younger generations turn to them to listen to music. Music streaming platforms have all the radio's strengths minus its weaknesses.
The trends discussed above are real and continue to occur even as we speak. You can leverage these trends by taking examples of the companies that underwent positive changes from using streaming technology. You can boost your marketing, social media presence and even improve customer experience using streaming. Also, marketing executives now use streaming as can be seen in the latest video marketing statistics. Whatever the application you have in mind, just make sure you heed these trends and you should be fine.
Source: Original article https://financesonline.com/streaming-trends/